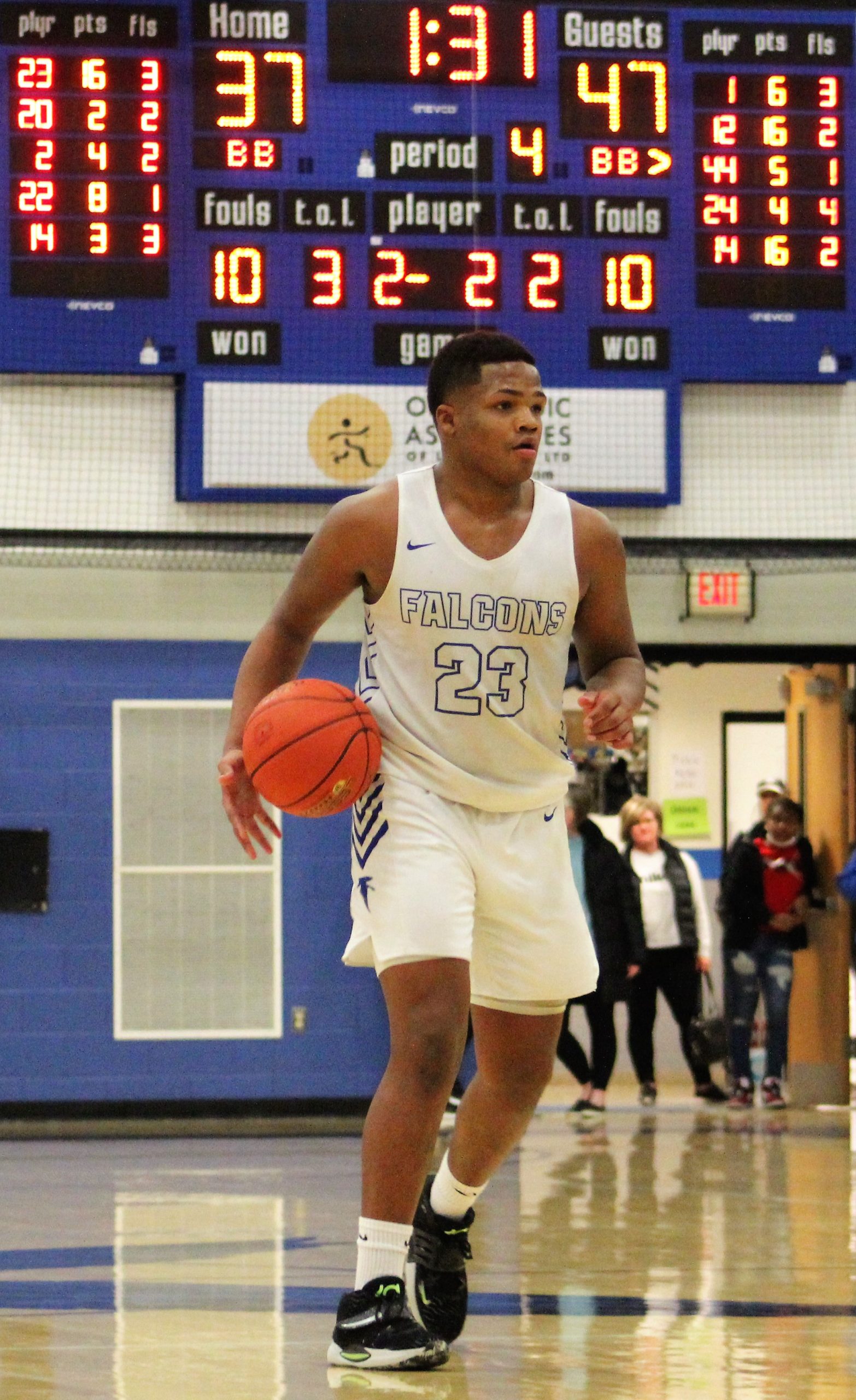 BY JEFF FALK
Editor
SOUTH LEBANON – Every time they made a run, the opponent responded. They just couldn't get over the hump, but neither would they go away. They couldn't catch up, but they refused to be put away.
They were stuck somewhere between taking that next big step and leveling off.
Fewer games epitomized the plight of the Cedar Crest boys' basketball team or the Falcons' overall progress to date than this one.
On Wednesday evening at 'The Cage', Cedar Crest fell to Exeter 52-41 in the consolation game of its own holiday tournament. Plagued by a slow start, early scoring difficulties and cold shooting, the Falcons never led, and never stopped trying.
The loss was Cedar Crest's third in its last four outings – all to tough opponents – and dropped the Falcons to 3-4 on the season. Exeter, which had edged the Falcons 52-50 at home in their season opener, improved to 6-3 overall.
"I think there was some some experience and growth that we got out of this," said Cedar Crest head coach Tom Smith. "But I want to win, the team wants to win and in that aspect, there wasn't growth. But hopefully this will help us moving forward.
"We need to play 32 minutes," continued Smith. "Tonight was very similar to last night (a 51-46 loss to rival Lebanon in overtime). That's what it takes to be successful."
The Falcons did not score a point over the initial five minutes of the contest, and Exeter assumed an early 5-0 lead. A Leo Tirado pull-up ended the Cedar Crest drought, but the Eagles notched the next seven points to open a 12-2 lead, seconds into the second period.
Exeter enjoyed three other ten-point leads in the period, 14-4, 16-6 and 19-9.
"We just didn't have focus and energy," said Smith. "We scored nine points in the first and we didn't make a 'three'. That means we were settling.
"At halftime, we just needed to fix ourselves," Smith continued. "The good news was we were only down by ten. The bad news was we only scored nine points. We felt if we could get the deficit under ten, it would give us an opportunity to win. That's where we were at."
Sophomore Fernando Marquez poured in a team-high 18 points for Cedar Crest and was named to the all-tournament team. The Falcons went a miserable 0-for-18 from three-point land, but did convert 17 of their 19 free throw attempts.
"We just couldn't get over that hump," said Smith. "It's hard to win when you go 0-for-18 on three-pointers. I thought they were good looks. They just weren't going in.
"Every time we made a little run, Exeter responded," added Smith. "They're a good basketball team. You can't play how we played and beat a good basketball team."
Four free throws from Tirado 3:25 into the second half pulled Cedar Crest to within 23-17 of the lead. Then at the end of the third quarter, Marquez knocked down a pair of charity tosses to make it a 29-23 game.
But each time, the Eagles had an answer.
"I'd say to this point of the season our offense has been average," said Smith. "I still think we're defining some roles. The defense is definitely ahead of the offense. It's coming along and we're going to get there. But we competed. When you're not making shots, it's tough. Our defense kept us in it."
Exeter opened the final quarter with a 10-2 run to expand its lead to 39-25.
"It was a fantastic tournament," said Smith. "In past years, we've had good holiday tournaments, but this was one of the best we've had in a long time. Last night, Lebanon and us went to overtime, and Exeter nearly took Palmyra to overtime. There was some quality basketball being played here."
To purchase images in this article please email jeff@lebcosports.com.
2021-22 Cedar Crest Boys' Basketball Schedule
| | | | | | |
| --- | --- | --- | --- | --- | --- |
| 2021-12-10 | A | vs | Exeter Township(3) | L | 50-52 |
| 2021-12-11 | A | vs | Conrad Weiser(3) | W | 46-37 |
| 2021-12-15 | H | vs | Susquehanna Township(3) | W | 57-32 |
| 2021-12-17 | H | vs | Hempfield (3) | L | 56-42 |
| 2021-12-21 | A | vs | Penn Manor(3) | W | 58-50 |
| 2022-01-03 | A | vs | Central Dauphin(3) | | 0-0 |
| 2022-01-05 | A | vs | J P McCaskey(3) | | 0-0 |
| 2022-01-07 | H | vs | Manheim Township(3) | | 0-0 |
| 2022-01-11 | H | vs | Wyomissing(3) | | 0-0 |
| 2022-01-12 | A | vs | Elizabethtown(3) | | 0-0 |
| 2022-01-15 | H | vs | Lebanon(3) | | 0-0 |
| 2022-01-18 | A | vs | Ephrata(3) | | 0-0 |
| 2022-01-21 | H | vs | Warwick(3) | | 0-0 |
| 2022-01-25 | A | vs | Conestoga Valley(3) | | 0-0 |
| 2022-01-28 | A | vs | Hempfield (3) | | 0-0 |
| 2022-02-01 | H | vs | Penn Manor(3) | | 0-0 |
| 2022-02-04 | H | vs | J P McCaskey(3) | | 0-0 |
| 2022-02-08 | A | vs | Manheim Township(3) | | 0-0 |