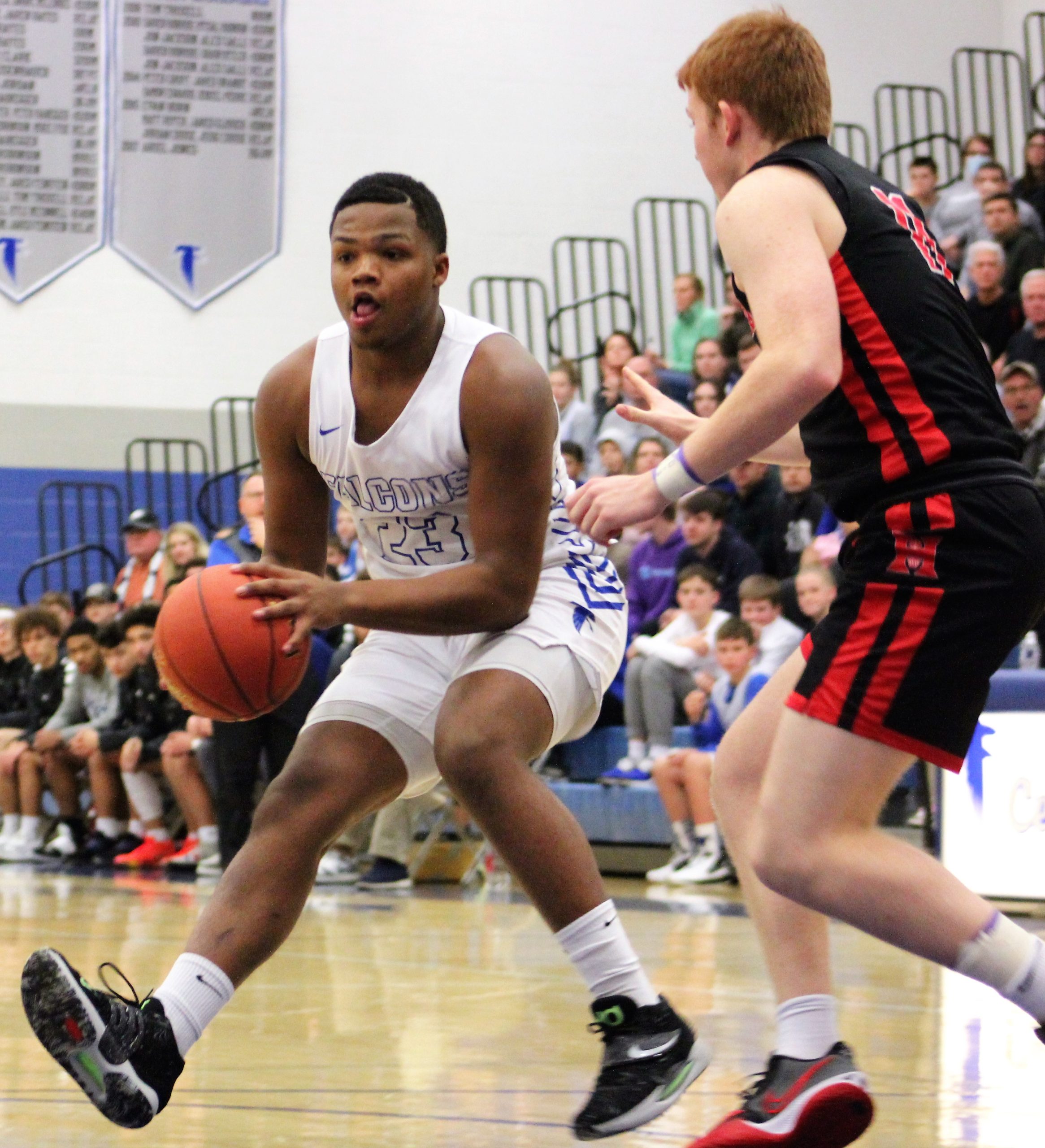 BY JEFF FALK
SOUTH LEBANON – It was an example of what they're good at, and what they're not good at.
It was a peek at where they are, and where they are going.
It was a glimpse of who they are, and what they can be.
For as well as the Cedar Crest boys' basketball team played in the first half, the Falcons performed just as poorly in the second.
On Friday night at 'The Cage', promising and improving Cedar Crest was introduced to a dose of patience by a veteran Hempfield squad, during a 56-42 Lancaster-Lebanon Section One setback.  The Falcons stood toe-to-toe with the unbeaten Black Knights over the initial 16 minutes of action, before wilting in the face of Hempfield's devastating third-quarter run.
After going 3-11 in 2021-22 and enduring one of its least productive seasons in recent memory, Cedar Crest had started this year by going 2-1. But last night was a bit of reality check for the now 2-2 Falcons.
Hempfield, one of the favorites in Section One, improved to 4-0 on the year and 2-0 in the league.
"It was a tale of two halves," said Cedar Crest head coach Tom Smith. "We played very well in the first half, and executed the game plan. But we didn't weather their pressure in the second half. The flood gates opened for a good part of the time.
"I thought tonight was an opportunity to see where we stand with the big boys," added Smith. "Hempfield is a very good basketball team. I think we've played very well early on this year. But Hempfield is a measuring stick."
After falling behind 9-2 early, Cedar Crest, fueled by the energy of its raucous home crowd, put together a 13-2 run that stretched from the middle of the opening quarter into the early moments of the second stanza. Sophomore Fernando Marquez tallied seven Falcon points during the span, while junior teammate Nolan Groff contributed four points and sophomore Aiden Schomp scored on a driving lay-in.
"We were taking care of the basketball, executing our offense and that was setting up our defense," said Smith. "That really worked well for us. We had a lead for the better part of the second quarter. But they (the Black Knights) hit some shots at the end of the half and really had the momentum going into the break.
"We're young, but we're not using that as an excuse," continued Smith. "They're (his players) on a varsity team. They belong here. We're playing four sophomores and a junior, but they've all been in our system and program."
"I thought we missed a few shots," said Hempfield head coach Danny Walck. "We were taking decent shots, but I thought we could take better shots, by moving the ball and by going in and out. I thought we were rushing some things."
A free throw from Schomp with 2:21 left in the second quarter gave Cedar Crest a 19-15 advantage. But it would prove to be the Falcons' final point of the first half, as well as their last lead.
Hempfield concluded the first half with eight straight points and carried a 23-19 advantage to the locker room.
"We opened against Exeter, played a decent game against Conrad Weiser and played better against Susquehanna Township on Wednesday," said Smith. "And we played a good half tonight. Am I happy? Yes. But I'm not satisfied. I'm fairly thrilled, but we're not where we need to be. We're still pushing them (his players).
"The execution part is something we need to get better at," Smith continued. "We're doing a good job of running our stuff, but we've got to do a better job of finishing. That starts in practice, just having that sense of urgency to get better in practice."
Marquez and Schomp both popped for 12 points to lead Cedar Crest offensively. The Black Knights outscored the Falcons 34-16 on field goals from inside the arc.
"There has definitely been leaps and bounds of improvement," said Smith. "The strides these guys are making have been good, but they have to continue. If we want to play in games that we want to play in in the postseason, we've got to play more than one half against a good team."
The Falcons did not score a point over the initial 4:40 of the second half, as Hempfield expanded its four-point halftime lead to 33-19. After the Black Knights ended the third quarter up 44-27, they notched the first two baskets of the final period.
"It was tough," said Smith. "We couldn't get a bucket. In those adverse times, we didn't respond. We weren't doing the small things. That's just how things happened. Good teams like that make opportunities for themselves."
To purchase images in this article please email jkfalk2005@yahoo.com.
2021-22 Cedar Crest Boys' Basketball Schedule
Basketball – Boys-Cedar Crest
| | | | | | |
| --- | --- | --- | --- | --- | --- |
| 2021-12-10 | A | vs | Exeter Township(3) | L | 50-52 |
| 2021-12-11 | A | vs | Conrad Weiser(3) | W | 46-37 |
| 2021-12-15 | H | vs | Susquehanna Township(3) | W | 57-32 |
| 2021-12-17 | H | vs | Hempfield (3)(3) | L | 56-42 |
| 2021-12-21 | A | vs | Penn Manor(3) | | 0-0 |
| 2022-01-03 | A | vs | Central Dauphin(3) | | 0-0 |
| 2022-01-05 | A | vs | J P McCaskey(3) | | 0-0 |
| 2022-01-07 | H | vs | Manheim Township(3) | | 0-0 |
| 2022-01-11 | H | vs | Wyomissing(3) | | 0-0 |
| 2022-01-12 | A | vs | Elizabethtown(3) | | 0-0 |
| 2022-01-15 | H | vs | Lebanon(3) | | 0-0 |
| 2022-01-18 | A | vs | Ephrata(3) | | 0-0 |
| 2022-01-21 | H | vs | Warwick(3) | | 0-0 |
| 2022-01-25 | A | vs | Conestoga Valley(3) | | 0-0 |
| 2022-01-28 | A | vs | Hempfield (3)(3) | | 0-0 |
| 2022-02-01 | H | vs | Penn Manor(3) | | 0-0 |
| 2022-02-04 | H | vs | J P McCaskey(3) | | 0-0 |
| 2022-02-08 | A | vs | Manheim Township(3) | | 0-0 |

Lebanon Federal Credit Union