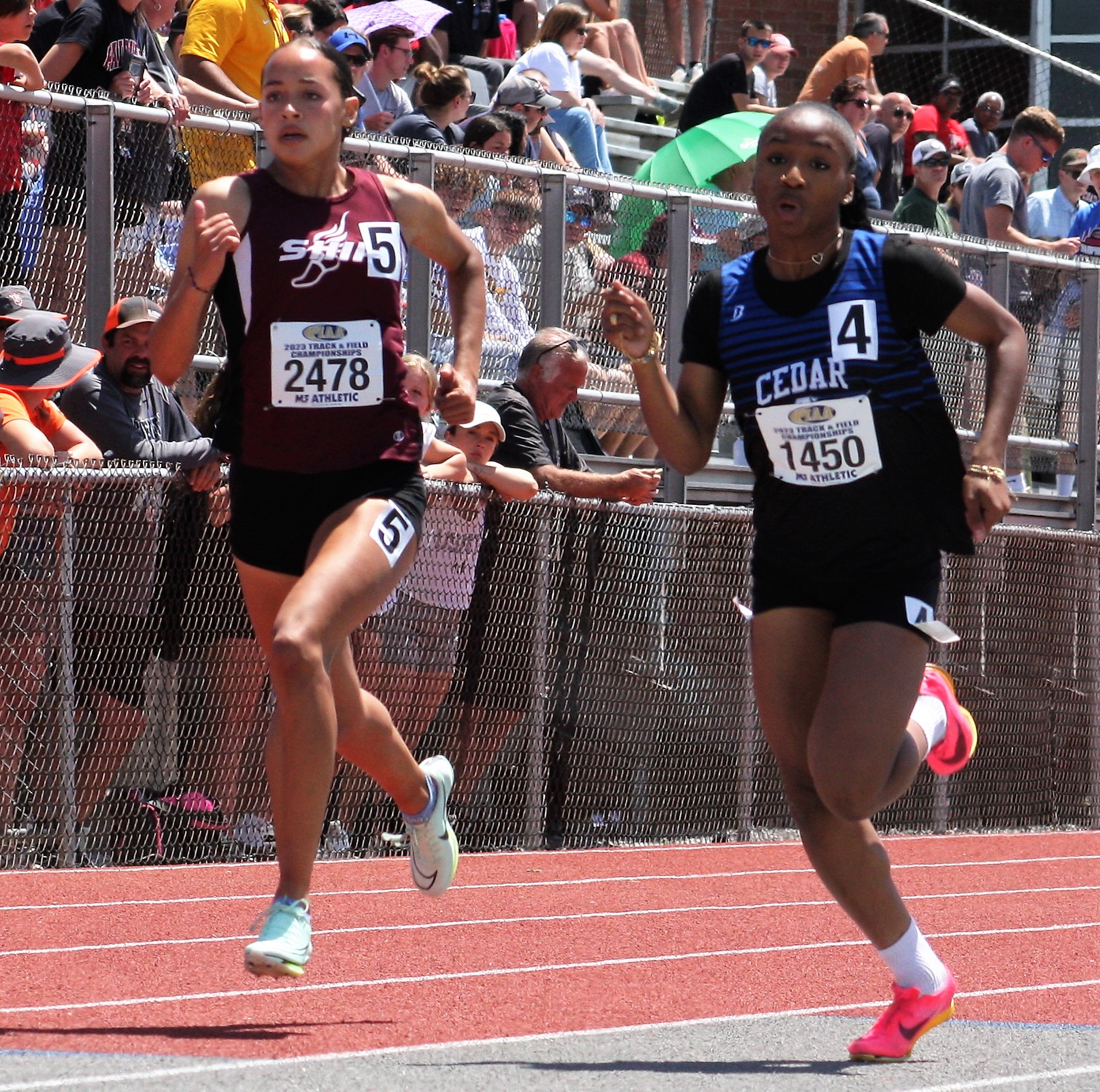 BY JEFF FALK
SHIPPENSBURG – She's painfully quiet, shy and modest, not all that different than most young people of her age and grade. On the synthetic track, she's only slightly more confident, slightly more assertive.
But not only does Kaddel Howard let her incredible speed talk for itself, she also allows it to speak for her.
On a brilliant Saturday at Shippensburg University's Seth Grove Stadium, during the second and final day of the annual PIAA Track and Field Championships, Howard lived up to all the hype and all of her awesome potential by winning the Class AAA 400-meter dash. The Cedar Crest freshman posted a victorious time of 53.50, which was a new Falcon program and Lancaster-Lebanon League record, but was not a personal best or a state record.
The state championship was just the second by a Falcon female competitor in the long history of the Cedar Crest track and field program. It also represented the sixth individual PIAA title that a Lebanon County student-athlete has captured over the last 14 months.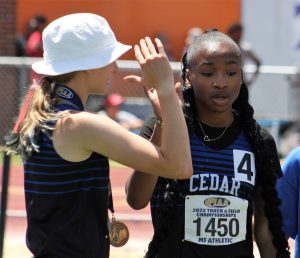 Over the years, Lebanon County competitors have won more state individual championships than in any other sport.
"It sounds great," said Howard, when asked for a reaction to the title 'State Champion'. "I just try my best. Yeah, it lived up to my expectations. Everyone around me was doing so good, it makes me run better. I was loving people watching me run.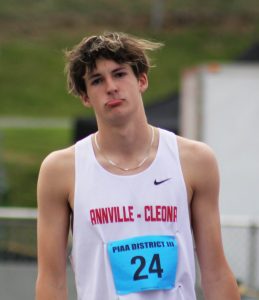 "My confidence coming in was like a seven out of ten," continued Howard. "Seeing those 55s in preliminaries made me nervous. I was thinking someone was just going to show out."
After breaking well, the top-seeded Howard ran a solid and consistent race in the 400-meter final. By the halfway point of the event she had established a comfortable lead, before closing strong.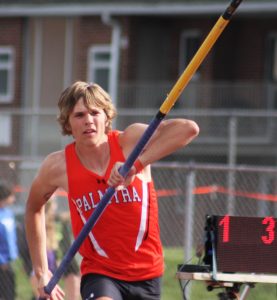 At the finish line, Howard was 1.38 seconds in front of West Chester Rustin senior Ava Alexander.
Last week at the District Three Class AAA Track and Field Championships, Howard had set a meet record in winning the 400-meter dash, led the Falcons to a silver medal in the 3200-meter relay and captured a bronze medal in the 200 meters. But for as spectacular as her freshman campaign has been, Howard's future is even brighter.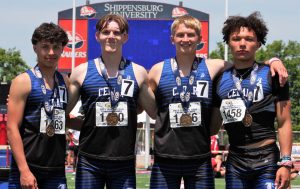 "At the end, I could hear someone behind me," said Howard. "It's (the 400) a combination of endurance and speed. I think I have pretty good endurance. I like to make it to 200 (meters) then really take off.
"I first thought it was possible when everyone started telling me I could do it," Howard continued. "That's what really helped me with my confidence."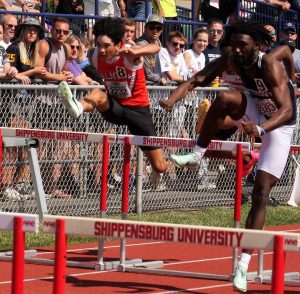 The Howard-anchored Cedar Crest 3200-relay team of Eliana Schneider, Lizzie Lowe and Grace Tadajweski finished seventh in the state among Class AAA squads.
While Howard was living up to her lofty expectations, there were other Lebanon County student-athletes who were also leaving their marks on the state track and field meet.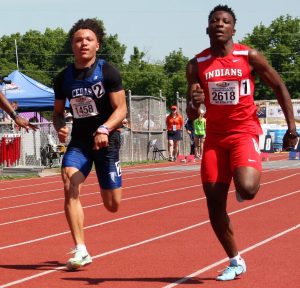 On Friday afternoon, Annville-Cleona senior Noah Gunderson closed out his stellar jumping career with a silver medal in the Class AA high jump. Gunderson cleared 6-5 on his first attempt at that height, but couldn't make 6-6.
Gunderson's 6-5 was two inches off his District Three Class AA-winning effort from a week ago, and three inches off the winning height posted by Union Allegheny Clarion Valley junior Hayden Smith.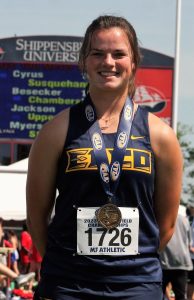 "I've been jumping against him for the last three years," said Gunderson of Smith. "I was a bit of a stalker with him, as far as following his results. I knew to win I had go above and beyond."
Gunderson completed his scholastic career with two District Three Class AA golds in the high jump, two Lancaster-Lebanon League golds and a state silver. Not bad for a student-athlete who took up the sport simply to improve his jumping in other endeavors.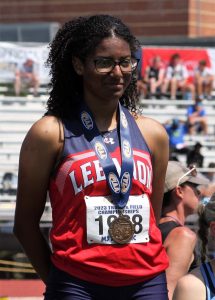 "I feel like my career was great," said Gunderson. "I couldn't ask for anything more, except maybe a state championship. I'm super happy at the end of the day. Winning districts back-to-back is super important to me. Today (Friday) was a good way to go out.
"It (high jumping) means so much to me," continued Gunderson. "It hurts knowing I might not be doing it ever again, but I can't be sad about how my career went. It's a good mix of both."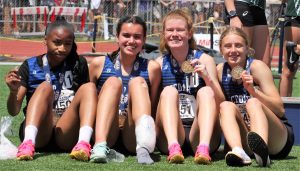 Palmyra junior Mason Bucks' silver medal in the Class AAA pole vault on Friday was a bit more surprising, but just as rewarding. Bucks, who had reached 16-0 during the regular season, cleared the same height – 15-6 – as winner Brandon Schneider of Erie, but lost out on the top spot due to more misses.
Perhaps just as eye-popping was the effort of the Cedar Crest team of Leo Tirado, Kyle Rauchut, Nick Garman and Gabe Lewis in the Class AAA 400-meter relay. They collaborated on a blistering 41.89, which was good enough for the bronze medal.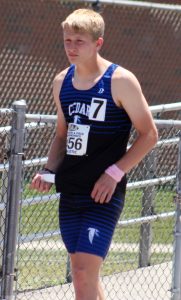 Earlier Saturday, Lewis had sped to sixth-place hardware in the Class AAA 100-meter dash.
Not unlike Lewis, Elco senior Sam Nelson also collected a couple of state medals, with a pair of gutsy showings. Nelson finished fourth in the class AAA javelin and eighth in the discus.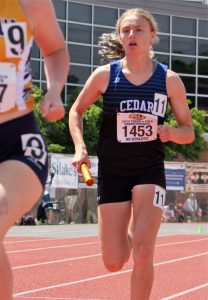 Another multiple medal winner was Palmyra sophomore Tyler Burgess, who ran a PR – 38.95 – to take home a sixth-place medal in the 300 intermediate hurdles, after copping a seventh-place medal in the 110 high hurdles.
Lebanon's Mileyska Calderon Caldron leapt 18-3.24 to claim fourth-place hardware in the Class AAA long jump.
To purchase images in this article please email jeff@lebcosports.com.
For all results from the PIAA Track and Field Championships, go to http://milesplit.live/meets/554139.

Lebanon Federal Credit Union